Menü
Please note that the kitchen may have closed or reduced capacity 1-2 hour before ordinary closing time, for more information call the restaurant at 031-97 04 78. 
---
For music events and other major events at Värdshuset and Brännö and sometimes during midday, another menu may apply, for info call the restaurant at 031-970478.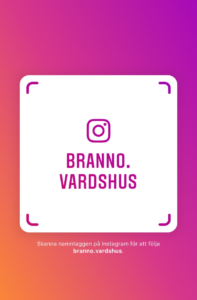 Instagram branno.vardshus.
---
Scanna namntaggen på Instagram för att följa branno.vardshus.
FÖRRÄTTER / STARTERS

Laxtoast med räkmousse, hovmästarsås, citron, dill, krispig sallad  175: – (G/L)
Salmon toast with shrimp mousse, mustard sauce, lemon, dill, crispy salad
Slät fisk & skaldjurssoppa med räkor, crudité och vitlöksbröd 165: –  (G/L)
Smooth fish & shellfish soup with shrimps, crudité and garlic bread
VARMRÄTTER / MAIN COURSES
Torskrygg, räkor, riven pepparrot, stekta champinjoner, brynt smör, dillpotatis 325:- (L)
Cod back fillet, shrimps, grated horseradish, mushrooms, browned butter, dill potatoes
Lasagnerullar i basilika & tomatsås fyllda med ricotta, fetaost, parmesan och spenat 199:- (G/L) 
Lasagne rolls in basil & tomato sauce filled with ricotta, feta cheese, parmesan and spinach
Högrevsburgare 180 gr, chili-majonnäs, ost, tomat, sallad, saltgurka, karamelliserad lök, pretzel bröd, pommes  225:- (G/L)
Prime rib burger 180gr, chili-mayonnaise, cheese, tomato, salad, pickles, caramelized onion, pretzel bread, pommes
Örtmarinerad lammfilé, ramslök & vitlökssmör, potatisgratäng, sparris 345:- (G/L)
Herb marinated lamb fillet, ramson & garlic butter, potato gratin, asparagus
Fisk & Skaldjurssoppa med vit fisk, lax, räkor, crudité och vitlöksbröd  269:- (G/L)
Fish & shellfish soup with white fish, salmon, shrimps, crudité and garlic bread
Fiskgratäng, vit fisk, räkor, musslor, vitvinssås, duchessepotatis  265:- (L)
Fish au gratin, white fish filé, shrimps, mussels, white wine sauce, pommes duchesse
DESSERT
Creme brulee smaksatt med citron och lakrits 109: – (L)
Creme brulee flavoured with lemon and licorice 
Passionsfrukts- cheesecake med mördegssmulor och choklad 109: – (G/L)
Passions fruit cheesecake with shortbread crumbs and chocolate 
BARNMENY / CHILDREN'S MENU
Köttbullar med rårörda lingon, gräddsås och potatis / Meatballs with lingonberry, cream sauce and potatoes (L) 109: –
Pannkakor, grädde, hallonsylt / Pancakes, cream, raspberry jam (G/L) 89: –
Vaniljglass med chokladsås och maräng/ Vanilla ice Cream with chocolate sauce and meringue (G/L/N) 79: –
---
På meny har vi märkt upp de rätter som innehåller: laktos (L), gluten (G) samt nötter (N). 
With reservations for changes.