Menü
Please note that the kitchen may have reduced capacity one hour before the closing time, for more information call the restaurant at 031-97 04 78.
---
During our "archipelago lunch" Thursday and Friday between 12-16, we do not have complete a la carte. The lunch can, however, be supplemented with some bistro dishes. Call the restaurant to hear what's avaliable. A la carte starts at 17.00. Welcome!
---
For music events and other major events at Värdshuset and Brännö, another menu may apply, for info call the restaurant at 031-970478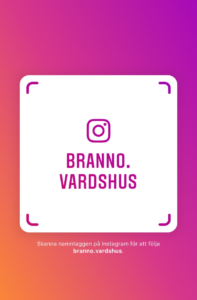 Instagram branno.vardshus.
---
Starters
Confit de Duck ravioli, with fried cabbage, pickled black berry and duck sauce  159: –
Grilled scallops, variation on carrots, browned butter, cottage cheese cream, kale chips, olive oil and samphire 169: –
MAIN COURSES
Blackened Cod, beurre blanc, celeriac puree, pickled beetroot, chervil and fried broccoli 295: –
Grilled Swedish sirloin, chili and gingerglaze, roasted sesame seeds, red wine sauce flavoured with star anise, roasted beet and mixed salad with apple 295: –
Variation on celeriac, pickled and roasted yellow beet, potato croquettes filled with blue cheese, smoked soyaglaze, browned butter flavoured with onion and soya  229:-
"Hash" Bellman on beef, sous vide baked potatoes, fried onion, horseradish cream flavoured with dijon mustard, parsley and cured yolk  209:-
The Inn´s fish and shellfish soup with prawns and garlic bread  235:-
Fish´n chips, mashed peas, remoulade, lemon and dill 195:-
Today´s "fish, shellfish or mussels" (does not apply every day, ask the staff for allergens)  Daily Price
DESSERT
Sea backthorn parfait, rowan berry compote, honey biscuit, sea backthorn curd and blackcurrent sorbet  109: –
Elderberry sorbet, roasted White chocolate, White chocolate foam, lemon curd, raspberry couli, lemon marinated fennel and lemon verbena
99: –
One small portion of sorbet of the house  59:-
CHILDREN'S MENU
Meatballs with lingonberry, cream sauce and potatoes  99: –
Pancakes, cream, raspberry jam  79: –
Vanilla ice cream with chocolate sauce  69: –
Unfortunately, we currently have a technical error on our booking form, please email directly to bokabaggen@brannovardshus.se with your request.