Menü
Please note that the kitchen may have closed or reduced capacity 1-2 hour before ordinary closing time, for more information call the restaurant at 031-97 04 78. 
---
For music events and other major events at Värdshuset and Brännö and sometimes during midday, another menu may apply, for info call the restaurant at 031-970478. 
Thursday 12.00-18.00 and Friday 12.00-17.30  we will serve a special lunchmenu. Kitchen is closed 17.30-18.00 on fridays between lunch and a la carte.  Welcome. 
The Restaurante is closed 19 December 2022 – 25 February 2023. We will open again on Sunday 26 February at 12.00. Welcome back!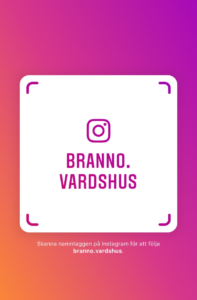 Instagram branno.vardshus.
---
Scanna namntaggen på Instagram för att följa branno.vardshus.
FÖRRÄTTER / STARTERS

Griljerad skinka, bresaola, parmaskinka, ungersk vintersalami, marinerade oliver, cornichons, tryffelmajonnäs 159: – 
Grilled ham, bresaola, parma ham, hungerian winter salami, marinated olives, cornichons, truffle mayonnaise
Slät saffranskryddad fisk & skaldjurssoppa med grissini  149: –  (G/L)
Smooth saffron spiced fish & shellfish soup with grissini
VARMRÄTTER / MAIN COURSES
Hälleflundra, bakad fänkål, rotselleripuré, smörstekt ostronskivling, musselsås, sikrom, skaldjursemulsion 345:- (G/L)
Halibut, baked fennel, celeriac puree, butter fried oyster mushroom, mussel sauce, lake white fish roe
Ankbröst med tranbär och portvinssås på grönkålsbädd med potatisfondant, palsternackschips och krasse 345:- (G/L) 
Duck breast with cranberry and port wine sauce on kale served with potato fondant, parsnip chips and cress
Grillad rotselleri, variation på beta, chèvrecrème, rostade hasselnötter, havtornschutney (veg) 225:- (L/N)
Grilled celeriac, variation on beet, chèvre crème, roasted hazelnuts, sea buckthorn chutney
Burgare, 180gr högrev, brioche, cheddarost, fänkålssalami, lollo rosso, marinerad silverlök, rökt chili majonnäs, pommes 225:- (G/L)
Burger, 180gr Prime Rib, brioche, cheddar cheese, fennel salami, lollo rosso, marinated white globe onion, smoked chili mayonnaise
Brännös köttbullar, gräddsås, rårörda lingon, inlagd gurka, potatispuré 179:- (G/L)
Meatballs, cream sauce, raw lingonberries, pickled cucumbers, mashed potatoes
Fisk & Skaldjurssoppa med vit fisk, lax, räkor, crudité och vitlöksbröd  269:- (G/L)
Fish & shellfish soup with white fish, salmon, shrimps, crudité and garlic bread
Sill & Lax (löksill, kräftsill, apelsinsill, wasabi & limesill, laxtartar, Janssons frestelse, skaldjurspaté, sparrispotatis, hovmästarsås, romsås 195:- mellanrätt (G/L)
Herring and Salmon (onion, crayfish, orange, wasabi & lime herring, salmon tartar, small potato and fish gratin, seafood pâtè, ratte, mustard sauce, roe sauce
DESSERT
Husets ris a la Malta med hallonsås 109: – (L)
Ris a la Malta with raspberry couli
Tre sorters ost med havtornsmarmelad, vindruvor och päron 139: – (G/L)
Three cheeses with sea buckthorn marmalade, grapes and pear
BARNMENY / CHILDREN'S MENU
Köttbullar med rårörda lingon, gräddsås och potatis / Meatballs with lingonberry, cream sauce and potatoes (L) 109: –
Pannkakor, grädde, hallonsylt / Pancakes, cream, raspberry jam (G/L) 89: –
Vaniljglass med chokladsås och maräng/ Vanilla ice Cream with chocolate sauce and meringue (G/L/N) 79: –
---
2022-11-25. På meny har vi märkt upp de rätter som innehåller: laktos (L), gluten (G) samt nötter (N). 
With reservations for changes.