Menü
Please note that the kitchen may have reduced capacity or closed 1-2 hour before ordinary closing time and also somedays between 17.30-18.00, for more information call the restaurant at 031-97 04 78.
---
A la carte is served  from 12.00. Thursday & Friday we have a special menu for lunch during mid-day. Welcome!
---
For music events and other major events at Värdshuset and Brännö, another menu may apply, for info call the restaurant at 031-970478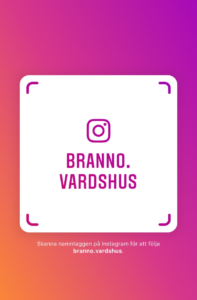 Instagram branno.vardshus.
---
FÖRRÄTTER / STARTERS

Toast Skagen serveras på smörstekt bröd med sikrom 159: – (G/L)
Toast "Skagen" served on butter fried bread with lake white fish roe
Slät fisk & skaldjurssoppa med rouille och vitlöksbröd 155: – (G/L)
Smooth fish & shellfish soup with rouille and garlic bread
VARMRÄTTER / MAIN COURSES

Lunchspecial, gäller ej alla dagar 175:-
Lunch special (Does not apply every day)
Torskrygg, räkor, riven pepparrot, stekta champinjoner, brynt smör, färsk potatis 325: – (L)
Cod back fillet, shrimps, grated horseradish, fried mushrooms, browned butter, new potatoes
Grillad entrecote, tomat & rödlökssallad, majskolv, bearnaisesås, pommes pont neuf 325:- (L)
Grilled entrecote, tomato and red onion salad, corn on the cob, bearnaise sauce, pommes pont neuf
Cannelloni i basilika & tomatsås fyllda med ricotta, parmesan och spenat 189:- (G/L)
Cannelloni, lasagne rolls in tomato & basil sauce filled with ricotta, parmesan and spinach
Brännös hamburgare, 2x100gr högrev, dressing, sallad, saltgurka, karamelliserad lök, ost, pretzel bröd, pommes 215:- (G/L)
Brännö´s hamburger, 2x100gr prime rib, dressing, salad, pickles, caramelized onion, cheese, pretzel bread, pommes
Fisk och skaldjursoppa med räkor, musslor, rouille, vitlöksbröd 249:- (G/L)
Fish & shellfish soup with prawns, mussels, rouille, garlic bread
Haloumi burgare, 150 gr haloumi, honungsmajonnäs, sallad, inlagd gurka, rotfruktschips, pommes  195:- (G/L)
Haloumi burger, 150gr haloumi, honey mayonniase, salad, cucumbers, root vegetable chips, pommes
Brännö´s räkmacka, handskalade räkor, dillmajonnäs, ägg, sallad, citron 199:-, gäller ej alla dagar (G/L)
Brännö´s shrimp sandwhich, dill mayonnaise, egg, salad, lemon (does not apply every day)
DESSERT
Friterad Camembert, hjortronsylt, friterad persilja 129: – (G/L)
Fried Camembert, cloudberry jam, fried parsley
Chokladmousse med hallon 109: – (L)
Chocolate mousse  with raspberry
BARNMENY / CHILDREN'S MENU
Köttbullar med rårörda lingon, gräddsås och potatis / Meatballs with lingonberry, cream sauce and potatoes (L) 99: –
Pannkakor, grädde, hallonsylt / Pancakes, cream, raspberry jam (G/L) 79: –
Vaniljglass med chokladsås och maräng/ Vanilla ice Cream with chocolate sauce and meringue (G/L/N) 69: –
---
2022-05-21. On the menu we have marked the dishes that contains: lactos (L), gluten (G) and nuts (N). 
With reservation for changes.