Menü
Please note that the kitchen may have reduced capacity or closed 1-2 hour before ordinary closing time and also between 17.30-18.00, for more information call the restaurant at 031-97 04 78.
---
A la carte is served  from 12.00. Thursday & Friday we have a special menu for lunch during mid-day. Welcome!
---
For music events and other major events at Värdshuset and Brännö, another menu may apply, for info call the restaurant at 031-970478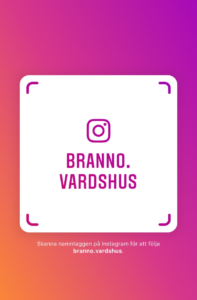 Instagram branno.vardshus.
---
Förrätter / Starters

Sallad med betor och getostkräm, rostade pinjenötter och honung 129: – (L/N)
Salad with beets chévre cream, roasted pine nuts and honey
Slät fisk & skaldjurssoppa med rouille och vitlöksbröd 149: – (G/L)
Smooth  fish & shellfish soup with rouille and garlic bread
Löjromstoast med créme fraiche, rödlök, gräslök 189: – (G/L)
Toast with white fish roe, créme fraiche, red onion, chive
Varmrätter / Main Courses

Torskrygg, duchesse potatis, morotspuré, smörsås, forellrom (G/L) 295: –
Cod, duchesse potatoes, carrot puree, butter sauce, trout roe
Entrecote rödvinssås med balsamico vinäger, kryddsmör, friterad färskpotatis, sparris 295: – (L)
Entrecote, red wine sauce with balsamic vinegar , herb butter, deep-fried new potatoes, asparagus
Högrevsburgare med chili-aioli, pommes, tomat, ost, picklad rödlök och bacon 199: – (G/L)
Prime Rib Burger with chili-aioli, pommes, tomatoes, cheese, pickled red onion and bacon
Saffransrisotto, parmesan, ostronskivling, sparris, rostad mandel 195:- (L/N)
Saffrons risotto, parmesan, oyster mushroom, asparagus, roasted almonds
Fisk & Skaldjursoppa med räkor, musslor, rouille, vitlöksbröd 235:- (G/L)
Fish & shellfish soup with prawns, mussels, rouille, garlic bread 
Dagens skaldjur eller musslor Dagspris, gäller ej alla dagar
Today´s shellfish or mussels Daily Rate, does not apply every day
Lunchspecial, gäller ej alla dagar 169:-
Lunch special. Does not apply every day.
Dessert
Husets bärpaj med vaniljsås 79: – (G/L)
The house pie with vanilla sauce
Mörk chokladmousse med smuldeg och hallon 99:- (G/L/N)
Dark chocolate mousse with crumble and raspberry
Barnmeny / Children's Menu
Köttbullar med rårörda lingon, gräddsås och potatis / Meatballs with lingonberry, cream sauce and potatoes (L) 99: –
Pannkakor, grädde, hallonsylt / Pancakes, cream, raspberry jam (G/L) 79: –
Vaniljglass med kolasås och smuldeg/ Vanilla ice Cream with caramel sauce and crumble  (G/L/N) 69: –
---
2021-09-01. On the menu we have marked the dishes that contains: lactos (L), gluten (G) and nuts (N). 
With reservation for changes.