Menu
Please note that the kitchen may have reduced capacity one hour before the closing time, for more information call the restaurant at 031-97 04 78.
---
The restaurante is open Thursday to Sunday and closed Monday, Tuesday and Wednesday until further notice
---
For music events and other major events at Värdshuset and Brännö, another menu may apply, for info call the restaurant at 031-970478.
A la carte is served Saturdays and all Sundays and on Fridays from 17.30, other time is served lunch menu and bistro dishes or call the restaurante for more information. Welcome!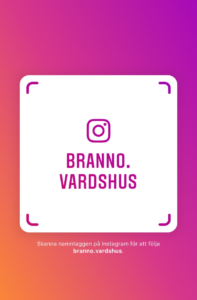 Instagram branno.vardshus.
During weekend 5/6 – 6/6 our menu will have reservations for changes.
---
FÖRRÄTTER / STARTERS

Sallad med betor och getostkräm, rostade pinjenötter och honung 129: – (L/N)
Salad with beets chévre cream, roasted pine nuts and honey
Slät fisk & skaldjurssoppa med rouille och vitlöksbröd 149: – (G/L)
Smooth  fish & shellfish soup with rouille and garlic bread
Löjromstoast med créme fraiche, rödlök, gräslök 189: – (G/L)
Toast with white fish roe, créme fraiche, red onion, chive
VARMRÄTTER / MAIN COURSES

Torskrygg, potatiskroketter smaksatt med hummer, morotspuré, smörsås, forellrom (G/L) 295: –
Cod, potato croquettes with lobster, carrot puree, butter sauce, trout roe
Entrecote med balsamicoreduktion, kryddsmör, friterad färskpotatis, sparris 285: – (L)
Entrecote with balsamic sauce, herb butter, deep-fried new potatoes, asparagus
Högrevsburgare med chili-aioli, pommes, tomat, ost, picklad rödlök och bacon 199: – (G/L)
Prime Rib Burger with chili-aioli, pommes, tomatoes, cheese, pickled red onion and bacon
Saffransrisotto, parmesan, ostronskivling, sparris, rostad mandel 195:- (G/L/N)
Saffrons risotto, parmesan, oyster mushroom, asparagus, roasted almonds
Fisk & Skaldjursoppa med räkor, musslor, rouille, vitlöksbröd 235:- (G/L)
Fish & shellfish soup with prawns, mussels, rouille, garlic bread 
Räkmacka, rågbröd, örtmajonnäs, sallad, picklad rödlök, ägg 195:- (G)
Shrimp sandwhich, rye bread, herb mayonnaise, salad, pickled onion, egg
DESSERT
Crème brûleé, färska bär, mango & passionssorbet 99: – (L)
Crème brûleé, fresh berries, mango & passion fruit sorbet
Mörk chokladmousse med smuldeg och hallon 99:- (G/L/N)
Dark chocolate mousse with crumble and raspberry
Husets bärpaj med vaniljsås 79:- (G/L)
The house pie with custard sauce
BARNMENY / CHILDREN'S MENU
Köttbullar med rårörda lingon, gräddsås och potatis / Meatballs with lingonberry, cream sauce and potatoes (L) 99: –
Pannkakor, grädde, hallonsylt / Pancakes, cream, raspberry jam (G/L) 79: –
Vaniljglass med kolasås och smuldeg/ Vanilla ice Cream with caramel sauce and crumble  (G/L/N) 69: –
---
---
2021-06-04. On the menu we have marked the dishes that contains: lactos (L), gluten (G) and nuts (N). 
With reservation for changes.
---
Allergies
On the menu we have marked the dishes that contain: lactose (L), gluten (G) and nuts (N)
---
With reservation for changes