Menu
We have now closed for maintenance and refurbishment during the period 20/12 2021-27/1 2022. We expects to open again 28/1 at 18.00. Welcome back.
Please note that the kitchen may have reduced capacity or closed 1-2 hour before ordinary closing time and also somedays between 17.00-17.30, for more information call the restaurant at 031-97 04 78.
---
A la carte is served  from 12.00. Thursday & Friday we have a special menu for lunch during mid-day. Welcome!
---
For music events and other major events at Värdshuset and Brännö, another menu may apply, for info call the restaurant at 031-970478.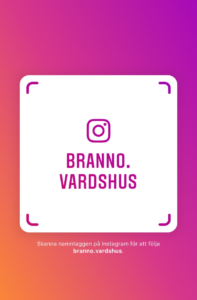 Instagram branno.vardshus.
---
FÖRRÄTTER / STARTERS

Glögg & pepparkakor med tillbehör 65: – (G/L/N)
Mulled Wine, gingerbread cookies
Slät saffranskryddad fisk & skaldjurssoppa med ört och vitlökskrutonger 139: – (G/L)
Smooth saffron  fish & shellfish soup with herb and garlic croutons
Griljerad EKO skinka, bresaola, parmaskinka, ungersk vintersalami, marinerade oliver, cornichons, tryffelmajonnäs 149:-
Grilled Eco ham, bresaola, parma ham, hungarian winter salami. marinated olives, cornichons, truffle mayonnaise
VARMRÄTTER / MAIN COURSES

Färskostöverbakad hälleflundra, bakad schalottenlök, konfiterade kantareller, jordärtskockspuré och champagnesås 325:- (L)
Halibut baked with cottage cheese, baked shallots, confit chantarelles, Jerusalem artichoke purée, champagne sauce
Hjortfilé, potatiskroketter smaksatta med shiitakesvamp och pecorino, brysselkål, grönkålschips, Madeirasås 325: – (G/L)
Venison fillet, potato croquettes with shiitake and pecorino, brussel sprouts, kale chips, Madeira sauce
Sill & Lax (löksill, kräftsill, svartvinbärssill, laxtartar, Janssons frestelse, skaldjurspaté, sparrispotatis, hovmästarsås, romsås) 185: – (G/L) mellanrätt
Herring and Salmon (onion, crayfish, black current herring, salmon tartar, small potato and fish gratin, seafood pâté, ratte, mustard sauce, roe sauce
Värdshusets smashburger 2x100gr högrev, dressing, sallad, saltgurka, karamelliserad lök, pretzel bröd, pommes frites 199:- (G/L)
Smashburger, dressing, salad, pickles, caramelized onion, cheese, pretzel bread, french fries
Värdshusets fishburger, brioche, sallad, tomat, panerad torskfilé, citronmajonnäs, skagenröra, pommes frites 199:- (G/L)
Fishburger, brioche, salad, tomato, breaded cod, lemon mayonnaise, "skagen mix", french fries 
Brännös köttbullar, gräddsås, rårörda lingon, inlagd gurka, potatispuré 165:- (G/L)
Brännö´s meatballs, cream sauce, raw lingonberries, pickled cucumbers, mashed potatoes 
Ugnsbakad rödbeta, getost, mandel, rotselleripuré, brynt smör (veg) 195:- (L/N)
Baked beetroot, chévre, almond, celeriac purée, browned butter
DESSERT
Husets Ris a la malta med hallonsås 99: – (L)
Ris a la malta with raspberry couli
Tre ostar med havtornsmarmelad, vindruvor och päron 129:- (G/L)
Three cheeses with sea buckthorn marmelade, grapes and pear
BARNMENY / CHILDREN'S MENU
Köttbullar med rårörda lingon, gräddsås och potatis / Meatballs with lingonberry, cream sauce and potatoes (L) 99: –
Pannkakor, grädde, hallonsylt / Pancakes, cream, raspberry jam (G/L) 79: –
Vaniljglass med kolasås och smuldeg/ Vanilla ice Cream with caramel sauce and crumble  (G/L/N) 69: –
---
---
2021-11-28. On the menu we have marked the dishes that contains: lactos (L), gluten (G) and nuts (N). 
With reservation for changes.
---
Allergies
On the menu we have marked the dishes that contain: lactose (L), gluten (G) and nuts (N)
---
With reservation for changes