Menu
Please note that the kitchen may have reduced capacity one hour before the closing time, for more information call the restaurant at 031-97 04 78.
---
During our off season from October 1st, our menu may vary somewhat depending on the day and time and we do not always have full range on the menu. When we have a day or lunch menu, the kitchen will have reduced capacity between 16-17 before the evening menu starts. For larger bookings it is always possible to pre-order in advance from the entire menu regardless of the day and time. Thursday and Friday the lunch of the day is served between 12-16 a la carte from 17.00 and on Saturdays and Sundays a la carte all day. Welcome!
Saturday 14/12 we will serve Swedish Christmas buffet/smorgasbord (595 SEK) at 19.00 and  because of that the kitchen may close between 17.00-19.00. A minor a la carté/ bistro will also be served before and during the buffet and also on Sunday 15/12, for information about the menu see the Swedish page. For the buffet we strongly recommend to book a table in advance. Welcome and for further information call us at 0046-(0)31 97 04 78.
---
For music events and other major events at Värdshuset and Brännö, another menu may apply, for info call the restaurant at 031-970478.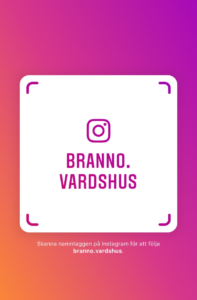 Instagram branno.vardshus.
---
Starters
Chanterelle soup, chantarelle creme fraiche with chévre on toast 129: –
Carpaccio on beetroot, goat cheese créme, pistachios, pickled yellow beet, balsamic 139: –
MAIN COURSES
Grilled salmon, dill potato, autumn cabbage, pickled mustard seeds, white fish roe & dill sauce 265: –
Grilled Swedish entrecote, parsnip puree, parsnip chips, deep fried potatoes, tomato and onion salad, red wine sauce and herb butter 275: –
Mushrooms croquette, roasted yellow beet, browned butter, parsnip puree and pear 185:-
Prime Rib Burger, chili mayonnaise, pickled red onion, tomato, salad, smoked cheddar, aubergine, pommes 195:-
Chevréburger, aubergine, salad, tomato, pickled red onion, honey dressing, pommes 175:-
The Inn´s fish and shellfish soup with today´s catch, prawns, mussels and garlic bread  225:-
Chanterelle soup, chantarelle creme fraiche with chévre on toast 159:-
Today´s "offer" (does not apply every day, ask the staff for allergens)  Daily Price
DESSERT
Sea backthorn parfait, rowan berry compote, honey biscuit, sea backthorn curd and blackcurrent sorbet  109: –
The house´s three chocolate truffles  89:-
One small portion of sorbet of the house  59:-
CHILDREN'S MENU
Meatballs with lingonberry, cream sauce and potatoes  99: –
Pancakes, cream, raspberry jam  79: –
Vanilla ice cream with chocolate sauce  69: –
---
Allergies
On the menu we have marked the dishes that contain: lactose (L), gluten (G) and nuts (N)
---
With reservation for changes